PREMIER FILM PROCESSING
DR5 CHROME E6 BLACK AND WHITE NEGATIVE
DIGITAL SLIVER SCALA BLACK AND THITE SLIDE



NOTE - ALL DEV-2 sepia rolls carry $1.50 surcharge

A dr5 staple film. Standard grain film.
Under dr5 this film produces a VERY sharp image. FP4 is the film most SCALA users turn to and some might prefer this film to SCALA with its portrait #2-grade qualities and easier scanning. It has superb highlight and shadow detail qualities.
NOTE: dr5 processed DEV2 has been proven to be impervious to environmental damage. DEV2 is "completely archival"
In developer 2-sepia, FP4 is light to medium brown in color. DMAX for FP4 is around 3.40 on average for fresh film, with a slightly compressed contrast. FP4 is a traditional emulsion.
Like HP5 it is one of the most consistent films produced. FP4 will appear slightly darker in DEV-2.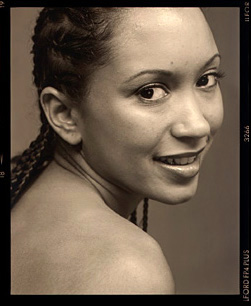 FACT FILLED TECH PAGE SHIPPING UPDATES & DISCOUNTS dr5 vs. XTOL-negative Comparisons
Advisories Independent dr5 tests CALENDAR ORDER-PRINT-OUT glossary


ILFORD FP4 - Ei: 32~100 iso
DEV-2 NORMAL dr5 ISO: 100